Welcome to Delray Beach Junk Removal and Trash Haulers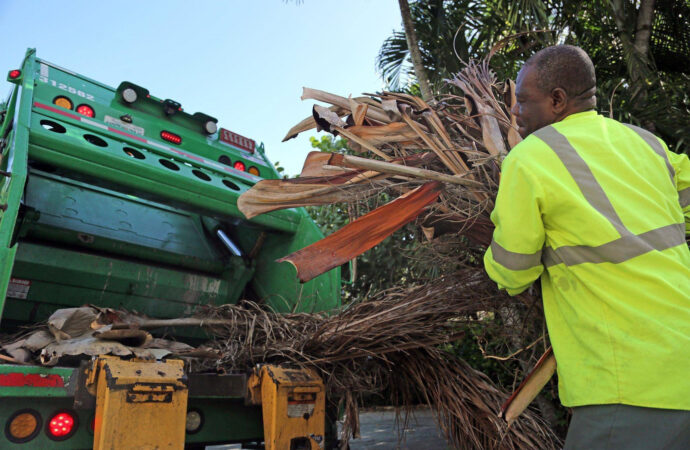 When looking for qualified junk removal companies in your city, you always need to pay attention to how they will handle the trash and waste and how you can count on them for the entire process. Our team at Delray Beach Junk Removal and Trash Haulers is a professional company that can help with all your needs and also offer cleanouts for all spaces: apartments, businesses, storage units, and more. We are here to provide you with all the assistance you need and make sure you're all covered, so there is no need to move a finger. 
We are available to answer any questions you may have and help you find the right solution for you based on what services you require, or if you aren't sure about what type of service you need, we will be there to provide our support without issues.
We care about you. This includes providing you with an estimate based on your junk removal needs and budget and making sure everything is detailed and included in the estimate.
Our team of experts can help you remove junk from your home. We also have the ability to assist you with commercial and business junk removal and make sure that constructions, demolition sites, or specific places with debris are all cleaned and ready to continue your project.
Our support has been a blessing for the entire city and nearby area residents for over 25 years. We are proud to have provided support for all of our clients and those living in the surrounding area since they have been able to handle their usual junk removal needs, plus having some extra assistance for others.
We are available to assist you. We will make sure the final price is fair and that all your needs are met.
How can you tell if you need our services? We have 27 services waiting for you, and we want to make sure that you are all covered, so there is no need for you to continuously struggle to find separate services or companies for each one of them.
Contact our team for more information. If you need some insight into what we do for you and how you should work with us, here are a couple of things we would like to mention:
Consider the junk you have and the project you are working on so you can make a decision about the service that fits them the most. This will help you to determine the type of junk that we should remove as well as how you can let us know. There are two options: remove debris or deal with general junk (in most cases). There are many services that can help you with junk removal and cleanouts based on the specific property and space you have for us.

As mentioned, we can help you clean out. What does all this mean? Our team will come to your home or property and remove all junk. They can also help you organize everything and dispose of it in recycling centers or transition centers, leaving your property sparkling and clean and ready for either a sale, a new tenant, and more.

We can help with either recurring or one-time pickups. We only ask for what you need, and we will make sure you have all the support you need, but you will need to let us know which service you are expecting and if you need our constant support.

We want you not to have to lift a finger. That is why we will provide our full support for heavy lifting, loading trucks, moving items to the best facilities, and working with multiple properties.
If you are unsure about which service is right for you and you don't feel confident choosing from our list, please call, email, or use our contact page. We will be happy to accommodate you again and provide you with an estimate based on your request.
We can still provide an estimate without knowing all the details, but this one will be more of an average for the service than an actual price since we will need to know the amount of junk we're dealing with and the work we need to put into the project before we begin working and give you a final price.
Our Team Is Ready to Help You in Every Step
It takes only a phone call or email to complete the task with our team and remove all the junk and waste that has been accumulating in your place. 
You can use our contact form to let us know about your service and the support you need from our team as well.
We will set up a meeting with you to discuss the details, give you an estimate, and provide the best advice. To properly assess and evaluate the junk, we will often visit the space or property where it is located.
Our team will be there to help throughout the entire project. If necessary, we will assist with the junk removal and cleanout at once or simultaneously.
We offer many services, so please contact us if you have questions or want to discuss your options. You can also see a complete list of our services below so that you can take a look at what we can offer you and how our team will support you with many cleanouts and removals:
We Make Sure to Offer Fair Prices
The junk removal team will provide you with an estimate based on your request and the specific service you're requesting, so you don't have to worry about anything and have an estimate that is based on the actual amount of work we will do.
So that you are comfortable with the service, we will consider all budgets and factors. These steps will allow you to get a quote and have a price that is around your needs.
That being said, you can request an estimate following these steps:
You can contact us by email or phone. You can also use the contact form to let us know your requirements or what junk removal or cleanout service you need.

We are happy to visit and provide an estimate. Schedule a visit with us, and rest assured it is completely free of charge.

Once you have accepted the estimate and booked the appointment, our team will start work to ensure that everything is completed according to the agreement.
Prices will vary depending on what service is requested and how much junk is being removed. 
A single request cannot provide an estimate or average, and we don't want to do this. While we will do our best to accommodate all your requests, estimate the cost and give you an average, this won't always be as exact.
We are pleased to inform you that all aspects of the quote process can be accessed free of charge. You can always contact us later if you are unsure if you want to hire us or not.
With this in mind, allow us to be there for you all the time, and we will accommodate every need in one go when needed.
Here is a list of our services you can get at Delray Beach Junk Removal and Trash Haulers:
---
Delray Beach Junk Removal and Trash Haulers is the top company in Delray Beach that offers the best residential and commercial junk removal services. Here's our additional services:
---