Fast Furniture Junk Removal Services in Delray Beach, Florida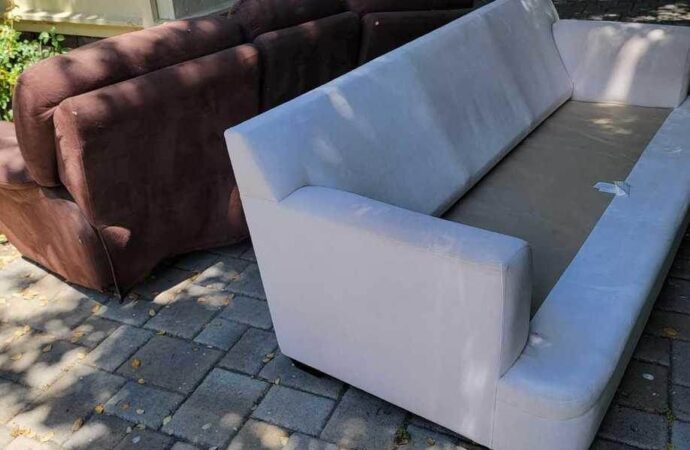 It doesn't matter how many pieces you have of furniture; removing them or getting rid of at least one or two will always be kind of a pain. If the company you hire for disposal refuses to pick up your furniture, then it's not worth it to have them working on your needs. You cannot simply place heavy furniture in one location for disposal either, so think carefully about how you want to handle this process. Proper disposal companies will also take care of the property recycling process. This is the most difficult task in junk removal because you have to lift and move furniture. Delray Beach Junk Removal and Trash Haulers can help you if you are having difficulty with the whole process. We will make sure that your furniture junk removal goes smoothly and that you don't have to worry about anything in this process.
We can also help with furniture junk removal and make sure that your items are properly disposed of. We'll pick up your furniture from you and load it onto one of our trucks. It depends on how many items we need to remove. Then, we will transport your furniture to one of our many charities or recycling centers or dispose of it properly in transition centers, if necessary.
It is important to understand that the price of this service will depend on the furniture being moved and how much space they take up. Without knowing all the details or with only a general description, we cannot give you an estimate or make recommendations for a simple move. We will need to know exactly how we can help you.
No obligation to provide a free estimate, and it is completely free, so don't worry about having to pay for something. We are happy to provide a customized quote for your needs. You can also hire us at any time you feel comfortable.
We are committed to disposing of your unwanted items and all furniture responsibly and in an environmentally-friendly manner, so there is nothing for you to worry about as we keep everything green.
Our Company Is Here for the Entire Removal
The location of the junk and whether municipal services can take it away will determine how you dispose of it. Some cities permit furniture pickup, but these same ones have restrictions on furniture pickup, and municipal services will not allow you to pick up all of your items.
Our team will save you all the trouble if you contact them immediately. We'll make sure you get all the information and support that you need without charging you a lot, and just make sure we figure out a good quote and price for the service.
When it comes to picking up furniture or how to dispose of it, there are many options. This will allow you to make an informed decision as the quote will include all the details of how we will do it and make your life easier. Our team will work around you and the items you are trying to dispose of.
We can move all your furniture quickly and efficiently. We take care of all the work so you can focus on what you can do to help the environment. So contact Delray Beach Junk Removal and Trash Haulers today for more information.
Here is a list of our services you can get at Delray Beach Junk Removal and Trash Haulers:
---
Delray Beach Junk Removal and Trash Haulers is the top company in Delray Beach that offers the best residential and commercial junk removal services. Here's our additional services:
---