Fast Commercial Demolition Dumpster Services in Delray Beach, Florida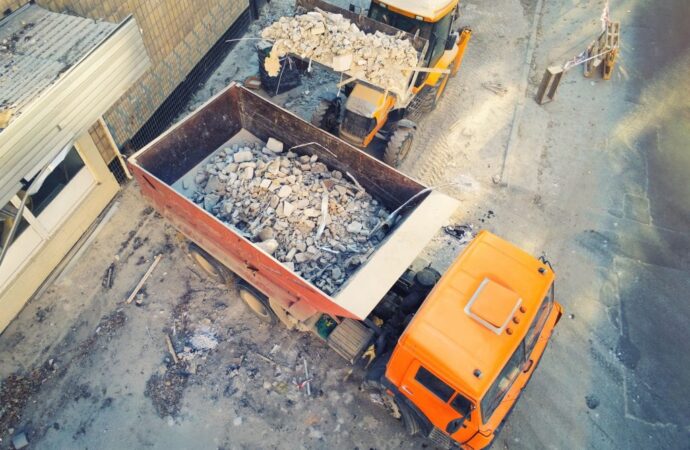 Projects like construction and demolition require great control and expertise. Are you planning to get demolition of your building or other structures? Or is your company providing demolition services to contractors or homeowners? In both cases, you require to contact a dumpster rental company that can take care of the debris produced during the demolition projects. Well, you don't need to search for it anywhere.
We, Delray Beach Junk Removal and Trash Haulers, can take care of all your trash and waste produced during such projects. With our Commercial Demolition Dumpster Services, we strive to keep your job sites clean with our timely pickup and delivery services.
How to Choose An Ideal Dumpster?
---
Before ordering a dumpster for your demolition services, you should first consider the amount of debris that will be produced, the type of materials you are working with, and the duration of your project. If you are not able to estimate the amount of debris produced, then call our experts.
They will guide you properly in determining the volume of debris and will help you choose an ideal dumpster for your services. It is advised to choose a dumpster bigger than your estimated volume of debris that will be produced.
How Our Dumpsters Can Help You?
---
Large amounts of waste and debris are produced in demolition projects. It is needed to be cleaned quickly to keep customers happy. Working with us can help you save time and money. Benefits are :
You don't need to go to the landfill or dumpsite to dispose of waste, thus saving your efforts and money.

With our empty and return service, you can be assured of waste disposal from the job site.

We don't have any hidden costs and don't charge any extra tax or extra money for our pickup and delivery services.

Customer satisfaction being our main motive, we take good care of our customers and their interests.
Size of a Dumpster 
---
We have a wide range of available sizes to accommodate and handle a variety of different types of debris and trash. We have dumpsters for all jobs ranging from tearing down a sagging porch to demolishing a whole building. We have different sizes available fit for different needs:
10 Yard Dumpster: Ideal for wall removal and demolition of concrete, driveway, and asphalt.

20 Yard Dumpster: Ideal for removal of floor and demolition of deck or porch.

30 Yard Dumpster: Ideal for the renovation of multi-rooms and demolition of shed or barn.

40 Yard Dumpster: Ideal for whole building renovations and demolition of offices and buildings.
What Can Our Dumpster Handle?
---
Our dumpsters can handle many types of construction and demolition materials and debris, including:
Concrete: Heavy debris like concrete, block, and bricks can be handled properly by our dumpsters.

Siding: Siding materials like aluminum and vinyl are accepted.

Wood and Drywall: We accept all types of wooden debris and materials constructing walls.

flooring: Materials like tiles, carpets, and wooden floors are accepted.

Roofing Materials: Shingles, left papers, trim, and all types of roofing materials accepted.
So, call us not for the most versatile services.
Here is a list of our services you can get at Delray Beach Junk Removal and Trash Haulers:
---
Delray Beach Junk Removal and Trash Haulers is the top company in Delray Beach that offers the best residential and commercial junk removal services. Here's our additional services:
---