Fast Eviction Clean Outs & Services in Delray Beach, Florida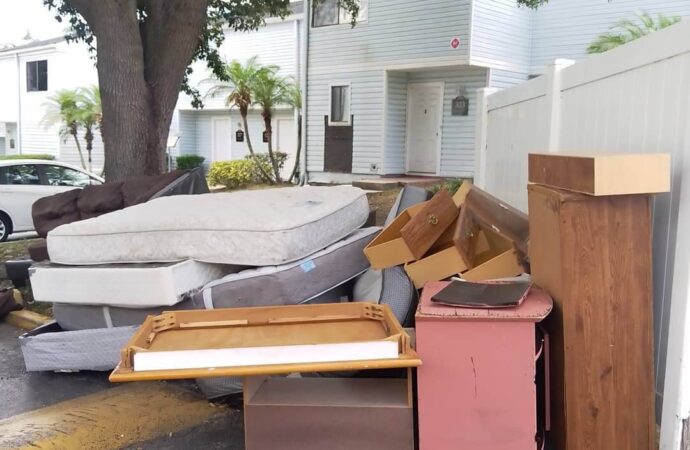 There are many concerns about the rental process and how landlords and tenants end up hating themselves due to how they cannot handle the deals once the contract ends or when one of them is moving. In most cases, the renters of your property will not take care of or clean up their junk and personal belongings before leaving. If everything was perfect, you wouldn't need to worry about it. Tenants should be responsible for paying their rent on time and maintaining their property in good repair. But if they are not, you can contact our team at Delray Beach Junk Removal and Trash Haulers, who will help you handle all aspects of eviction clean outs.
We can take care of everything so that you don't have to worry, and we can complete the job in no time.
Our trusted eviction company can offer professional services that will help you save all the time and effort you would have to put into this process. How do you know whom to trust? It can be exhausting to compare so many companies to find the one that is right for you, but since we are here, this simplifies the entire process.
If you work with our team, they will return your property to its original condition within hours. Tenants who are unable or unwilling to pay can have their junk and items removed by us as well. It's not about evicting tenants only; we are also available to help you organize and get things sorted, so you have the property all ready.
Are you aware of when and why this service is needed, or if you are part of the group that needs the help? Eviction clean outs can be a huge benefit to many people. Let's explain it in a very simple way.
Eviction clean outs simply refers to the removal of personal property belonging to tenants after an eviction. A company that specializes in eviction clean outs the entire process, regardless of how many tenants have left.
This will help you save time and money, as well as ensure that your property doesn't have junk or other unwanted items. We will do this for you every day or whenever it is needed based on the needs you have around this.
What Junk and Items Can We Remove for You?
Delray Beach Junk Removal and Trash Haulers can remove junk from your property and put it on the curb. We can remove junk and appliances as long as they aren't hazardous, and we will make sure to store those that can be claimed by tenants later on.
We are able to assist you with many items, so you can rest assured that we will be there for your every need.
It can be hard to clean up after an eviction. Our service will dispatch three experts to your home to help you clean up after an eviction, or even more people depending o your needs and how you need us to handle the entire process.
We will make sure your investment is secure and achieve the best results. We can handle any property size. Call us today to get a free estimate and to schedule an expert eviction cleaning service and allow our Delray Beach Junk Removal and Trash Haulers team to be the support you need.
Here is a list of our services you can get at Delray Beach Junk Removal and Trash Haulers:
---
Delray Beach Junk Removal and Trash Haulers is the top company in Delray Beach that offers the best residential and commercial junk removal services. Here's our additional services:
---