Fast Office Clean Outs & Services in Delray Beach, Florida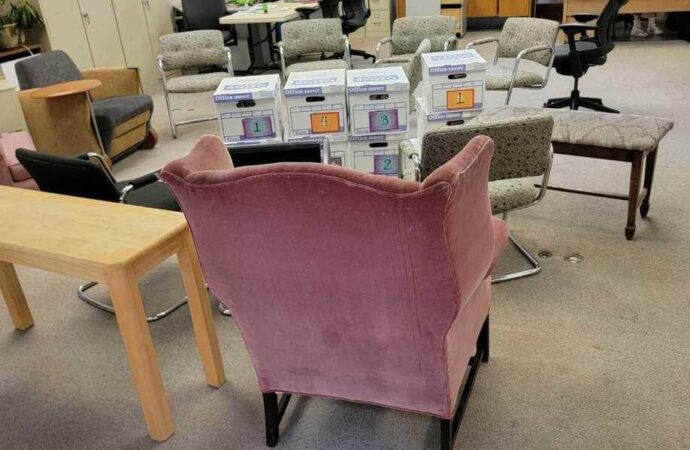 Delray Beach Junk Removal and Trash Haulers has a team of qualified professionals who will quickly load any office furniture and appliances and transport them safely away. We are the best company for office clean outs and make sure you don't have to struggle alone with the organization, sorting out the items, and making decisions about what will be removed or not.
All office furniture can be recycled when we clean out an office space, and we still take much more than your regular junk and rubbish.
This is why you ought to remember that we will also take different items, as well as junk and trash. We are proud that 72% of the junk that we remove doesn't end up in landfills.
We can actually say that we have increased this percentage to more than 99% since we don't send junk or furniture to landfills. This is part of the problem with environmental pollution, and we don't want to contribute to it in any possible way.
We support green solutions, which is why we either recycle them or move them to the most suitable transition centers so that we can ensure the best conditions for our clients.
Depending on the condition of the item and its potential use, some items can be donated. We can reduce waste and dispose of the rest by using recycling facilities.
We Are Here for A Complete Clean
Our company provides a professional service to remove all non-hazardous items from your office. If there is a lot of junk, trash, or garbage in your office, we will clean it out and help you organize the whole thing.
We provide top-quality services in all areas of the city, including the surrounding areas. This is why we urge you to get in touch with us if you need junk removal experts like us who will offer all the help you need to clean the space.
Many commercial customers request that we accept items like:
Furniture.

The office can contain construction debris and residues from renovations and constructions.

Cubicles removed.

Office equipment.

All kinds of junk and items in the office just take up space and collect dust, as long as they are not hazardous.
You can contact us via our contact page or by calling. We will visit you at your convenience and give you a customized quote that suits your office and your needs. It is simple to do everything with us and have the best thing in place.
Why We Are the Best Company for Your Office Clean Outs & More
You can either call our friendly staff to schedule an appointment or go online. We will arrive on time to take away any junk or other items. We will take out all paper and junk from your office so that it can be moved in by a new employee.
Are you planning to renovate or remodel your office? Do you want to eliminate clutter from your office? Talk to us about what you need.
Rest assured, the estimate that we give is only based on your budget and available funds. If necessary, we will consider your budget.
We have the right equipment and members to assist you in this process. Your office will look brand new and clean in no time.
Here is a list of our services you can get at Delray Beach Junk Removal and Trash Haulers:
---
Delray Beach Junk Removal and Trash Haulers is the top company in Delray Beach that offers the best residential and commercial junk removal services. Here's our additional services:
---